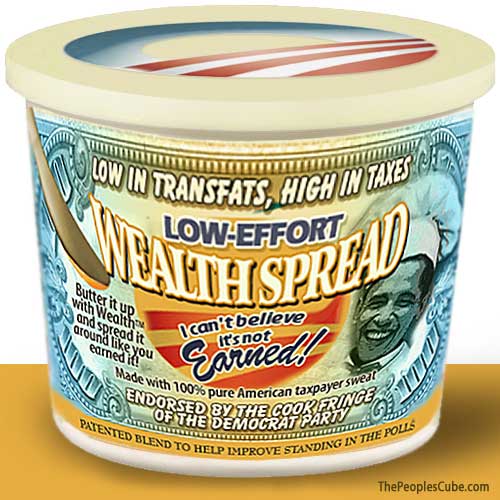 While canvassing neighborhoods in Ohio this Sunday, Barack Obama advised a tax-burdened plumber not to worry about money because under his presidency money will disappear since it will no longer have any meaning anyway. Instead, all Americans will be living off Obama's highly nutritive WealthSpread™ formula that is surprisingly low in effort and is being promoted by a group of leading nutritionists known as the Cook Fringe of the Democrat Party under the brand name "I Can't Believe It's Not Earned!"

"Your new tax plan is going to tax me more, isn't it?" the plumber asked, complaining that he was being taxed "more and more for fulfilling the American dream."

"So instead of cutting taxes with a kitchen knife we'll butter it up with wealth and spread it around like we earned it," the Democratic candidate continued. "It's a patented foreign blend that is guaranteed to help improve my standing in the polls, but it's made with 100% pure American taxpayer sweat, which once again shows how taxes can be patriotic."
HT:
The People's Cube
.